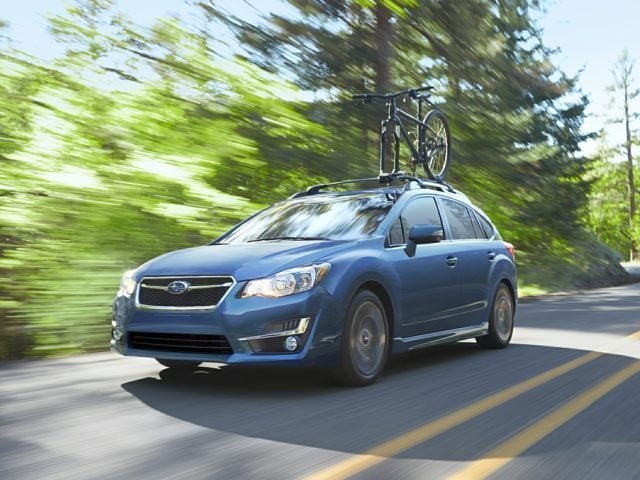 With every model they build, Subaru promises a number of amenities beyond what is normally offered in its segment. This includes symmetrical all-wheel drive standard, fantastic fuel economy, and an array of impressive features. On the Impreza, this pledge can be seen more than ever, especially when the compact is compared to competing models.Take a look at how the Impreza sedan and hatchback compare to the Civic and the Juke for drivers around the Willamette Valley.
2015 Subaru Impreza vs. 2015 Honda Civic in McMinnville

On paper, the Impreza and Civic are textbook competitors. Both claim a low starting MSRP and a wide array of standard features. However, these standard features are what set each model apart. Here are a few ways they stack up.
Impreza comes with all wheel drive standard, where AWD isn't offered on the Civic.
Lower base MSRP than the Civic. Impreza starts at $18,195 (without destination) while Civic starts at $21,190 (without destination).
Superior headroom in the front and rear over the Civic, as well as front legroom.
2015 Subaru Impreza vs. 2015 Nissan Juke in McMinnville

While the Impreza and Juke technically compete in different classes (sedan/hatchback versus crossover), their compact nature lends themselves to a unique competition among shoppers. Check out this comparison of how they rate.
Both models come with standard all-wheel drive, however, the Impreza reigns supreme with a 25 city/34 highway rating (vs. 26/31 Juke).
Lower base MSRP on the Impreza versus the Juke S AWD. Impreza starts at $18,195, while the Juke begins at roughly $4,000 more.
More front and rear headroom, and front legroom on the Impreza.
Still not sure! Take a test drive and see which is right for you. You can find the new Impreza hatchback and sedan here at Jim Doran Subaru today.